Small culture slants have the advantage of easy storage, integration with our database system, and safe shipping to collaborators.
Sterilize 2mL cryotubes by autoclaving or prolonged exposure to UV light.

Under a biosafety hood, arrange the open tubes in a rack so that the open end of the tubes face almost horizontally (about 15° ).
Expose the tubes to UV light again if necessary to ensure they are not contaminated.
Add about 1mL of autoclaved media (usually PDA) to the bottom of the tube.
Let the media harden and cool UNDER AN ANGLE in the hood before adding the tube caps.
Store in the fridge.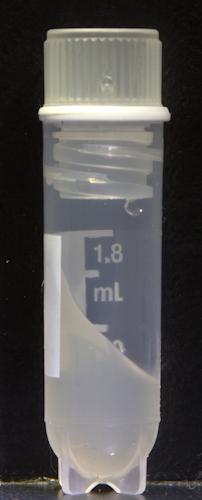 Following this, you may culture the fungus on the slant media, label it with a scolytos vial number, and place it in the incubator, slightly open with parafilm, to grow. After the media has a culture, you may add 10-20% glycerol to fill the vial, close it completely and use the "Mr. Freeze" jar to slowly bring it down to freezing in the -20C. It can then be moved to the -80C for long term storage.
For sending the tubes to collaborators:
Keep the culture for a couple days before shipping to make sure the fungus is growing and isn't contaminated.
Wrap the lid-tube joint with parafilm, so that the lid doesn't get loose.

Tape the tube to a piece of paper so that it doesn't roll around in the envelope during shipping.

Make sure it is sufficiently padded and that the tube and envelope are labeled.
Ship IMMEDIATELY: there is very little oxygen for the fungus to breathe.